River City Family Dentistry Is The Dentist Office Dunlap IL Trusts
River City Family Dentistry is the dentist office in Dunlap IL you've been looking for.
Why Choose River City Family Dentistry Over Other Dentist Offices?
Our caring and highly skilled staff makes the difference. Meet Morgan Renner, DMD, MS, and our entire staff.
"I'm committed to getting to know each of my patients and treating each with respect to their individual needs. I hope to provide an atmosphere of openness, with attention to your comfort, all while delivering great service." – Dr. Morgan Renner
What Services Does this Dentist Office Offer?
We offer all the usual dental services you'd expect from a full-service dentist office, of course, but what we are best known for is offering "Dentistry With A Woman's Touch." So while our services are similar, it's how we deliver them that makes us stand out. Our staff is ready to handle virtually any dental service, including:
Cleaning and check-ups
Implants and restoration
Fillings
Teeth whitening
Crowns and bridges
Dentures and partials
What Ages Does River City Family Dentistry Serve?
We are a practice centered on family dentistry, so we serve all ages, including children. In select cases, we do sometimes need to refer children to a pediatric dentist for certain types of specialized care.
What Kind Of Dental Tech Does River City Family Dentistry Serve?
We take dental tech and equipment seriously because our aim is to always offer our patients the best possible care. That means staying current with the best in new dental equipment. Some of the dental tech we use in our practice includes:
Electric handpieces: These are quieter and more comfortable than the older technology.
Digital X-rays: These offer significant improvements in accuracy and ease of reading over the old film X-rays.
Intra-oral cameras: These are useful in identifying dental issues and communicating them to our patients.
Soft tissue lasers: Our goal is always to provide services safely and securely. Our soft tissue lasers remove unhealthy soft tissue in the most comfortable way possible.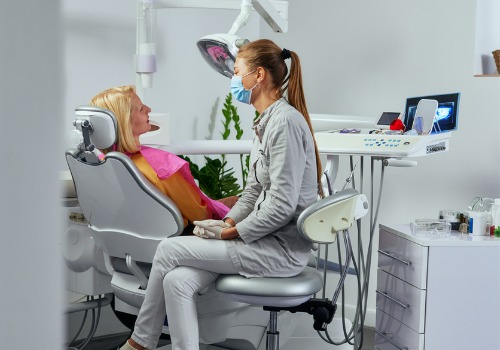 It's Time For You To Experience Dentistry With A Woman's Touch So Call Us Today!
Call the dentist office Dunlap IL trusts most: River City Family Dentistry. We want to make you and your family smile. Call us today at 309-692-5863.