River City Family Dentistry Offers Invisalign to East Peoria IL Residents
The once painful process of tooth straightening has been revolutionized with Invisalign for East Peoria IL residents. Invisalign has become a preferred method of straightening for most dental patients because it means patients no longer need to anchor wires or deal with painful tightening appointments. Because Invisalign is a removable straightening option, your daily functioning doesn't have to be interrupted. And you don't have to hide your smile while you straighten it. And River City Family Dentistry is your resource for this innovation.
What is Invisalign?
Invisalign is a series of customized plastic molds made to gently shift your teeth into alignment. Unlike painful braces, the gentle constant pressure Invisalign uses to straighten your teeth is much more comfortable. Invisalign is completely transparent and comfortable. And because you can remove it to eat and clean your teeth, you don't have to worry about the common problems involved with tooth straightening, such as avoiding foods or picking bits of dinner out of your braces.
Invisalign is an effective teeth straightening procedure that is comfortable and easy to use. Best of all, we custom mold the trays for your teeth. When you see how simple it is to take care of your smile, these liners will have you smiling as you watch your teeth straighten before your eyes.
River City Family Dentistry Can Do It All
In addition to offering Invisalign in East Peoria IL, River City Family Dentistry also offers a full scope of dental services. From teeth whitening to dentures, crowns to bridges, our experienced, all female team will take care of you. It's our goal to make sure you're getting what you need to continue tending your oral health when your appointment is over. We're in it with you every step of the way.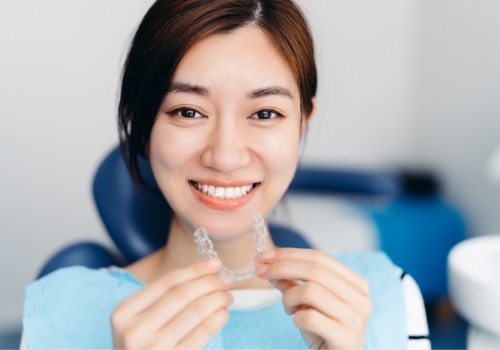 Contact Us Today
Whether you're looking for Invisalign in East Peoria IL, you're ready to get implants and restorations, or you need a simple cleaning, River City Family Dentistry is the call to make. You can contact our office at 309-692-5863. Or you can use our online contact form to request an appointment at any time. We look forward to meeting with you.