Find Exceptional Dental Care in Peoria IL
The key to a happy mind and body is through your mouth, or more specifically, your teeth! Believe it or not, the care of your teeth can significantly impact your mental or physical health. However, one thing is sure: without proper dental care in Peoria IL, you'll have trouble keeping your teeth healthy. Thankfully, River City Family Dentistry can provide the services you need to achieve peak oral cleanliness!
The Importance of Caring for Your Teeth
Everyone needs dental care! The amount of food, germs, and bacteria that can get caught in your mouth is enough to make anyone ill. Not to mention, concerns over appearance, tooth pain, bad breath, and overall healthy living can all be corrected with consistent dental care in Peoria IL. As such, some of what you can expect from our dentist office include:
A Brighter, Whiter Smile

Consistent teeth cleanings and the right food and drink can keep your teeth shiny and bright! However, without dental care, your teeth can become yellow and stained. While these issues aren't immediately detrimental to your health, they can impact your confidence and self-esteem. Yes, even mental health is connected to the health of your teeth.

Reduced Dental Disease and Decay

Without dental care, your teeth are likely to break down over time. Severe plaque buildup due to poor oral hygiene can significantly deteriorate teeth or cause gum infections. Ultimately, these problems can develop into tooth loss and gum disease, further impacting your body's health. Thankfully, such issues can be prevented with oral care from River City Family Dentistry.

Detection of Additional Health Issues

Since your mouth is your body's primary intake, the source of many health concerns starts with your mouth! As such, routine oral check-ups keep your teeth healthy and allow dentists (and doctors) to detect worse issues before it's too late. For example, gum infections and mouth lesions can be early signs of diabetes. Or, periodontal disease can increase a patient's risk of heart disease. A trip to the dentist can uncover these problems and more!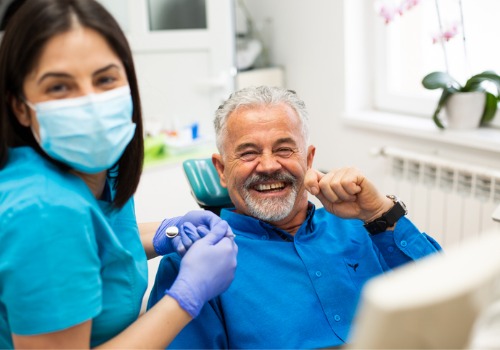 Our Dental Services
To ensure the best dental care, you must have access to essential dental services. Thankfully, River City Family Dentistry has you covered. We put your time, care and health first in everything we do. We strive to provide better diagnoses and treatments using the latest dental techniques and technology, ensuring a speedy recovery process. Here are some of the dental services we offer:
Contact Our Office
Dental care in Peoria IL is essential to a happy, healthy and bright smile! Make sure your teeth have the care they need with River City Family Dentistry. To learn more about our services or schedule an appointment, contact us today at 309-692-5863. We are located at 2024 W Rohmann Ave, Peoria, IL 61604.