River City Family Dentistry Offers Dentures in East Peoria IL
Some circumstances tend to lead to the loss of most or all of your teeth. And it can stop you from smiling. Fortunately, dentures and partials are a great way to restore your smile. In addition to our full scope of dental services, River City Family Dentistry can take care of your dentures in East Peoria IL. Our professional, dedicated, all female staff at River City Family Dentistry is always there to assure and inform you along the way. You'll always know you're being heard and getting everything you need to take care of your teeth and overall oral health.
Why Dentures?
Sometimes injury, gum disease, and cavities can lead to the loss of teeth. When you lose teeth, it may be time to consider dentures. Dentures are easily removable. They can also help restore your smile by replacing your teeth with false teeth molded to precisely fit your mouth. This replacement of teeth can aid in proper chewing, it can protect your gums, and perhaps most importantly, restore that smile. They can also keep facial muscles from sagging, which is just another benefit.
Denture users are always pleased to know we've built our practice on a straightforward concept: providing genuine care for our patients is the right way to run a dental practice. We also promise to care for you, your health, your time, and your needs. And we will present our dental plans in phases, making it possible for you to afford the care you need.
Our Dental Services
If you aren't yet in need of dentures, River City Family Dentistry can take care of your teeth in every stage. We offer routine checkups and cleanings, which can reduce stains, protect you from cavities, and prevent gum disease. We also help keep cavities in check with composite and metal tooth fillings. Broken and misshapen teeth can be restored with crowns and bridges in our office. And we even offer more cosmetic procedures like teeth whitening and Invisalign teeth straightening.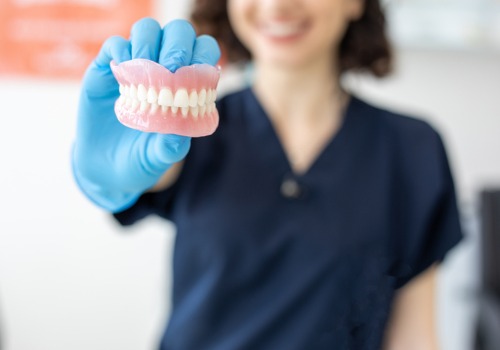 Contact Us Today
Call our team today to schedule an appointment to talk to us about dentures in East Peoria IL. We'll talk through the procedure with you and help you understand what you're in for. Call us at 309-692-5863 or use our online contact form to request an appointment today. We look forward to caring for you.